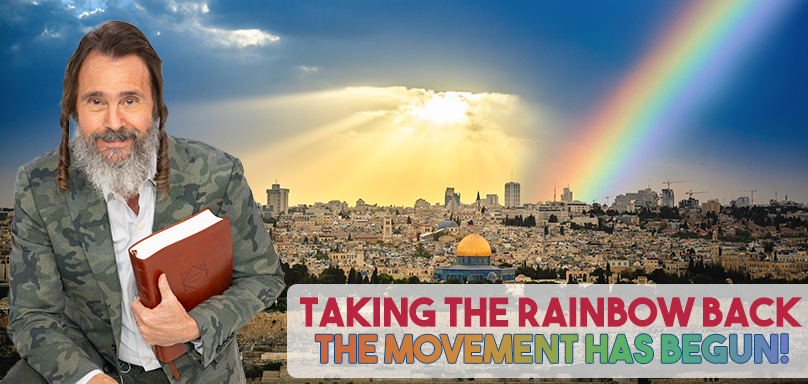 Action Steps
Pray

Personal texts from Rabbi Schneider

Sign-Up to start receiving personal and in real time texts directly from Rabbi Schneider.

"I want to be able to communicate with, encourage, and unite as many believers as possible, so that God's people can rise-up and reclaim the rainbow for Him." - Rabbi

Start Preparing For The Inaugural: Taking The Rainbow Back Day the weekend of July 28th through 30th

On this day God's people around the world will unite as one body and one voice. Each believer clothed in their Taking The Rainbow Back T-shirt (pictured below) - united as His children. This is also a public stance in response to the annual Gay Pride Day.

Many people might be intimidated to wear a T-Shirt like this on their own. But when we are all wearing one together- we will become bold!

Enough is enough, it is time for us to stand-up and do what is right!

(Click an image to enlarge)

Click here to get your shirt now and become part of the movement!

GET YOUR SHIRT - $12

(Limited Time Price)

Stay Updated

There will be more videos coming and on-going specifics to share. Make sure and stay updated so you don't miss any important announcements. To sign up for strategic emails click the button below. To sign up for strategic emails click the button below.

STAY UPDATED

Please Share the Movement With Others

Watch This Foundational Video on God's Purpose for the Rainbow
---
Objectives
To restore the meaning of the rainbow to its God given purpose.

To take a stand for the glory of God on the earth.

To neutralize the illegitimate use of the rainbow by the LGBTQ community.

To raise-up a standard of righteousness on the earth.

To help those that are in the LGBTQ community by letting them know that healing is possible and there is a way out.

To point mankind back to Jesus.

To oppose unrighteousness by raising a standard that will push back the powers of darkness to protect our children and the next generation.

To provide young people the tools, instruction, and courage to stand-up for what is right.